Thank you for wanting to pick up your Athens Card Bronze!
Below, in the quantity box, please choose how many adults and then press the Add to cart button.
Then, choose how many children (if any) and press the Add to cart button again.
After you have checked that all the cards you need are correctly displayed, press the checkout button.
This procedure will take you to our PayPal account (that is in the name of our general manager, Mrs. Svetlana Yakubina)
After your payment on the secure PayPal site, we will contact you shortly regarding the details for the pick up of our cards!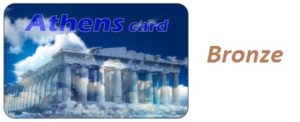 [wp_cart:Athens Card Bronze:price:[Type|adult,24.90|child,17.90]:end][show_wp_shopping_cart]